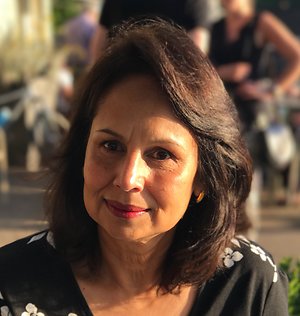 ANXIETY/STRESS RELIEF
No.4 Harley Street, Marylebone, London
Call me on 020 7631 0156
or 07960 364555
I work on a one-to-one basis with Adults, Young People & Children
SKYPE, TELEPHONE, CLINIC APPOINTMENTS
I also run STRESS MANAGEMENT WORKSHOPS in CENTRAL LONDON




Are there things about yourself that you would like to change?
Are you generally feeling anxious, panicky, and finding it difficult to cope?
Are the negative effects of chronic stress getting in the way of you enjoying life?
Looking for someone or something that will help you overcome the difficulties you are experiencing in your life?
Looking for FAST RELIEF from your problems/issues?

Well, you've come to the right place! Let me tell you a little bit about myself and how I can help you.

My name is Sandra Nathan and I specialise in helping busy people reduce their stress levels as and when they are triggered. As well as one-to-one sessions, I also run group STRESS MANAGEMENT WORKSHOPS.

I integrate Emotional Freedom Technique (EFT) into my counselling practice to give you QUICK RELIEF from your problems/issues. I find that instead of taking months or even longer using conventional 'talk therapy', EFT often achieves success in a few sessions, and sometimes in just one session as experienced by the following client.


Client Testimonials - anxiety and stress

"After a physical illness led to a deep depression, Sandra listened to me and gently allowed me to open up. With EFT and other techniques, she led me to recovery and more. I wouldn't have re-emerged without Sandra." A.C London

"From just one session with you I have let go of so much pent up emotion and anxiety that has plagued me for years. EFT has revolutionised my life and I will be sure to use it in the future." Clare, London.

"My experience with Sandra Nathan has completely changed my outlook on life and the way I deal with stress and my emotions. Anxiety and panic attacks have been a burden on my life for over 5 years, and I have found that Sandra's Emotional Freedom Technique has allowed me to deal with my emotions properly and reduced my anxiousness tremendously." A.B. , London.

"When I first contacted Sandra, she listened very carefully and made the right questions in order to understand the context, always in a very respectful and open way. She lead the tapping session kindly but effectively, leaving me some freedom to express myself and complete the statements, but guiding me in the right direction and offering me new perspectives to the situation. I appreciated working with Sandra very much and I would work with her in the future. " B.O., Brussels.
"Though initially being sceptical about the EFT method, I drew enormous benefits as when I felt claustrophobic when undergoing the MRI, the EFT method coached by yourself did actually make me calm and I was able to go through it. I can certainly vouch that EFT does help to make a difference to my well being. Many thanks for introducing me to EFT."
Client Testimonial - Physical Symptoms:
"I came to see Sandra after I had come off a precautionary anti-seizure medication prescribed to me after a brain tumour surgery 7 months before. I was afraid I was going to have a seizure that my fear manifested in various unpleasant symptoms and I felt like I couldn't control neither symptoms nor the fear. . When I told Sandra my story I was very emotional and cried but she took the information and managed to bind it together into a helpful tool that we used with EFT. Sandra was very attentive and compassionate. She made me see that I could control my fears, emotions and turn them around to empower me.
It took only three EFT sessions for me to learn that I am not helpless or hopeless and Sandra played a big part in my getting better! Now even if I feel I am getting anxious about anything I can tap my worries away. Thank you Sandra!"
Client Testimonials from Stress Management Workshop
"I am pleased to tell you that I now use EFT on a daily basis.The workshop gave me an insight of how to focus in on a problem and how well EFT works. Your workshop was so informative and professional and is certainly well worth the experience."

"Loved this workshop. Whether you already use EFT or it's completely new to you, this was a great day to learn and use EFT helping reduce stress in our everyday lives, which most of us suffer with! I often wake up with that 'don't want to go to work' feeling, and now that I start my day tapping on those emotions, I feel the benefits instantly. "


What particularly convinced me of EFT's effectiveness was my own success in ridding myself of my dental phobia – for all of my adult life I have been a very nervous patient in the dental chair, literally a quivering wreck with tears running down my cheeks – and this was before I even opened my mouth! Now, to the relief of my dentist and myself, I am no longer filled with anxiety and behave like a normal person with a normal level of concern.


Client Testimonial - Fear of Flying:
"I had a fear of flying which was affecting my life. I discovered EFT which previously helped with anxiety issues so thought why not try cure my phobia with this tool. After my session with Sandra I could happily imagine myself enjoying a flight without any panic attacks and look forward to having a holiday!"


What is EFT and why is everyone talking about it? Quite simply (Emotional Freedom Technique) is the most exciting breakthrough in therapy and personal development for decades. It is a new treatment for stress management, relationship issues, anxiety, phobias, PTSD, joint/muscle pain, addictions, weight issues, anger management and much, much more.

Whatever your issue, using this technique will work to help you to overcome the emotional blocks that are interfering with your well being, and in a few interactive sessions I can help you to move forward and change the negative thoughts and emotions that limit your success.


"EFT often works where nothing else will." Gary Craig, EFT Founder


(Go to https://www.thetappingsolution.com/2018event/ to find out more about EFT)
Workshops
In addition to one-to-one sessions, I also hold group workshops at the Hale Clinic.

Workshops:

STRESS MANAGEMENT
CURB YOUR CRAVINGS/LOSE WEIGHT
QUIT SMOKING
IMPROVE YOUR SELF ESTEEM
GET RID OF YOUR PHOBIAS
OVERCOME YOUR FEAR OF PUBLIC SPEAKING
CLEAR YOUR BLOCKS TO SUCCESS






Location & Contact
My practice is located at the Hale Clinic, in Harley Street, Marylebone, Central London. The address is 4 Harley Street, Marylebone, London W1G 1PB.
I also conduct EFT Skype/Telephone sessions with clients who are unable to visit me at Harley Street.

Do call me on 07960 364555 and we can chat about what's bothering you and how you will benefit from our sessions together.

Or you can email me at sandranathan2000@yahoo.co.uk

To book a Skype/Telephone session click on the PAYPAL BUY NOW button below.
2 Hour (100 mins) Skype/Telephone Session